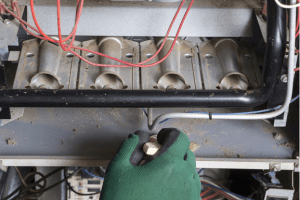 Winters in Canada can be cold and sometimes brutal, and you need a dependable source of heat all season long. Nothing lasts forever and there may come a time when your furnace is not working right. Sometimes you can easily fix the trouble. However, it may be the right time to replace your old furnace, but how can you be sure? Here is important information to help you make the right choice.
When Furnace Repairs Make Sense
You may notice little airflow from your furnace and the fix might be simple. The furnace blower motor needs to draw air in from inside the house and if the filter is obstructed or occluded, the blower cannot work properly. Installing a new filter can make a big difference. Check the furnace filter to see if it is dirty and change it. In some cases, you may need a new blower motor, but repairs are affordable.
Bad Odours
A dirty filter may cause your furnace blower to suck unpleasant smells into the heating system and release them into your home. A filter change might get rid of your odour problem. A dirty air duct system can also cause bad smells and irritate allergies. Your HVAC company can clean the ducts and give you better air to breathe.
Blowing Cool Air
Several things may cause your furnace to blow cool air. For example, a blocked filter may cause the heat exchanger to get too hot, and the excess heat can crack the exchanger. To prevent this problem, the furnace has a heat limit switch which turns off the heat, resulting in cool instead of warmed air. Other heating issues may be caused by a faulty thermostat or thermocouple, and the repairs are not too expensive.
Furnace Replacement
With an old furnace, it is just a matter of time until you have trouble. You may pay more for repairs on older furnaces because parts might not be available. If the unit is 15 years old, you should consider replacing it.
Efficiency
Even if the old unit still works, a new furnace is more efficient. According to Natural Resources Canada, it takes an average of sixty-one percent of your energy to heat your home. A new forced-air gas furnace (which is Energy Star certified) can save you six percent and a new and efficient oil-burning furnace can save as much as nine percent on energy bills. Increased efficiency means greater indoor comfort along with lower heating costs.
Frequent Repairs
When your furnace needs frequent service, the unit may be close to the end of its lifecycle. Old furnaces are more likely to have problems with carbon monoxide leaks, which can be hazardous to your health and the well-being of your family. A new furnace comes with a warranty, so if problems arise, your HVAC contractor is there to help.
Points to Remember
Should you replace your old furnace or pay for repairs? If the furnace gives you constant problems or is older than fifteen years, replacement may be a good idea. Changing the air filter can solve problems like low heat, bad odours, and not enough warm airflow. A new furnace from your local HVAC service will keep your family warm and safe all winter long. You enjoy the peace of mind that comes with a new furnace warranty and lower energy costs.
---
aplusair.ca Heating & Air Conditioning wants to help you make informed decisions when it comes to the comfort and enjoyment of your home. With expert staff and second-to-none service, they can provide all your residential and commercial heating and cooling solutions. For more information, visit www.aplusair.ca.