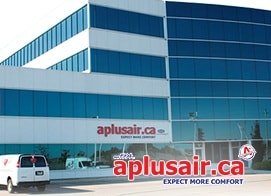 As a successful, fully licensed heating, ventilation and air conditioning (HVAC) company, A-Plus Air has been providing their growing list of residential, commercial and new home builder customers in the Golden Horseshoe their expertise and quality service for almost 20 years. Long time members in good standing with the Better Business Bureau, HRAC – Heating, Refrigeration, Air-Conditioning Institute, the Niagara Home Builders Association and the Ontario Home Builders Association, the husband and wife team of Steve and Natalie Brogan are proud to lead a professional team of qualified and licensed skilled trades people.
A-Plus Air's specialists have designed, built and installed custom heating and cooling solutions in residential, commercial and new home construction projects all over the region. No project is too big; none too small. It makes no difference whether there is a small repair or a complex installation; A-Plus Air's technicians are there to serve their customers. You can't miss the A-Plus Air branded service trucks, 17 of them and counting or the large red overhead sign illuminating from the new A-Plus Air corporate headquarters on the South Service Road, running parallel to the QEW Niagara in Stoney Creek. A-Plus Air has become synonymous with consistently meeting and exceeding the needs of their customers, one project at a time.
A-Plus Air developed a preferred relationship with Carrier a few years back. While Carrier is at the leading edge of heating, ventilation and air conditioning (HVAC) systems, its units have a price range to fit practically all budgets.
While A-Plus Air customers enjoy all the benefits of new, innovative Carrier products, their skilled and licensed technicians continually undergo additional training so they may work on many other popular name brand systems that may, on occasion require a service call. It's important to note that A-Plus Air technicians are more than capable of servicing or repairing the majority of name brand systems on the market today.
Visit us online today at: www.aplusair.ca or call Natalie Brogan for a professional and personal home consultation 905-385-6450
Location:
Unit 110 – 110 South Service Road
Stoney Creek, Ontario
Contact:
905-385-6450
1-800-285-3779
Hours:
Monday – Friday: 8.00 a.m. – 5.00 p.m.
Saturday: by appointment
24-hour emergency service available