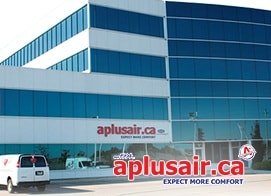 "No matter how you look at it, regardless of all the success and accomplishments with providing the highest standards of service and quality workmanship in heating and cooling environments, we're still only as good as our last installation," states Natalie Brogan. And as one half of the successful husband and wife team that has owned and operated A-Plus Air Heating and Air Conditioning for more than 20 years in the Golden Horseshoe region of Ontario, she knows of what she speaks. "In all our years of business, we have developed some pretty terrific relationships with loyal customers who continue to push us towards standards of excellence and quality that we work hard to maintain. There is no place for complacency in this competitive business."
Along with husband and partner Steve, A-Plus Air has earned a positive reputation for fairness and excellence in exacting efficiencies in a home, commercial and even in an institutional interior environment setting.
A-Plus Air developed a preferred relationship with Carrier a few years back. Consequently, the relationship has benefited everyone – especially existing and new customers. While Carrier is at the leading edge of heating, ventilation and air conditioning systems, its first class units have a price range to fit practically all budgets. "No need to compromise or sacrifice quality for price just because you turn to the experts," smiles Steve.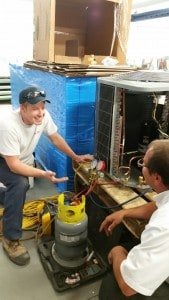 There is also more to A-Plus Air than installing and maintaining heating, ventilation and air conditioning systems. The company is also expert at designing and installing infloor radiant heating/warming and zoning systems – which involves controlling your environment in more than one location using separate thermostats and a number of indoor air quality improvements such as air purifiers and humidifiers.
A-Plus Air believes in investing heavily in training and continuing education for all its employees. It's important to note that their licensed and qualified technicians are more than capable of servicing or repairing the majority of name brand systems on the market today. "We try to ensure we can do it all now," says Steve, "A-Plus Air consistently meets the high standards it sets for itself and delivers on its promise to expect more in home comfort."
Visit us online today at: www.aplusair.ca or call Steve & Natalie and their team for a professional and personal home consultation 905-385-6450.
Location:
Unit 110 – 1100 South Service Road
Stoney Creek, Ontario
Contact:
905-385-6450
1-800-285-3779
Hours:
Monday – Friday: 8.00 a.m. – 5.00 p.m.
Saturday: by appointment
24-hour emergency service available