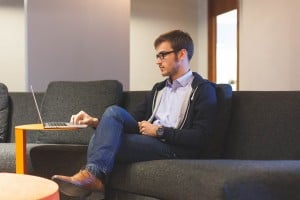 You've looked at the benefits of upgrading your old forced air oil-burning furnace and are definitely in the market for a high-efficiency gas furnace – especially now that the local utility company has made natural gas available on your street.
However, there is one piece of equipment you might consider adding to the furnace; something that in the grand scheme of things is relatively inexpensive and the benefits make it a no-brainer.
A humidifier.
The air from your furnace will not only keep you warm, it will dry out the air in your home. Humidifiers send small molecules of moisture into the air and can help keep you healthier – and will also extend the life of your furniture.
The benefits of humidifiers during the interminable Canadian heating season are many:
Can help relieve cold symptoms by making the air you breathe more moist;
Reduces the susceptibility to infection by keeping the mucous membranes of your throat and nasal passages moist, reducing nosebleeds;
Relieves and prevents dry, scratchy skin and lips;
Keeps valuable wood furniture from drying out and cracking;
Reduces static electricity, thus reducing the tiny shocks received from touching certain objects and other people – even pets; and,
Can help prevent wood floors from buckling and separating.
The optimum humidity level in a house is generally 35 – 40%; anything above that can induce mould and may make your home feel more like a swamp. An easy way to tell if you have too much humidity in your home is to look at your windows. If there is moisture on the glass, dial it back.
Humidifiers are not miracle workers, but they can help keep you healthy and saves on furniture repairs.
aplusair.ca Heating & Air Conditioning wants to help you make informed decisions when it comes to the comfort and enjoyment of your home. With expert staff and second-to-none service, they can provide all your residential and commercial heating and cooling solutions. For more information, visit www.aplusair.ca