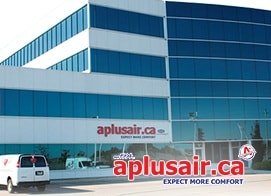 With almost 20 years experience in the home heating and comfort business, Steve and Natalie Brogan know a thing or two about helping people like you achieve the most from their home heating and cooling systems.
In August 2011, their company, A-Plus Air moved into spacious new headquarters on South Service Road in Stoney Creek. You'd be hard-pressed not to be aware of their presence with the oversize aplusair.ca banner billowing in the breeze. Or to have missed one of their fleet of 17 aplusair.ca service trucks on the highways in the Golden Horseshoe region. Their brand has become synonymous with consistently meeting the needs of their customers, one project at a time.
A-Plus Air's specialists have designed, built and installed straightforward and custom home heating and cooling solutions in residential and  commercial projects. No project is too big; none too small. Regardless of whether there is a minor repair or a complex brand new installation involving multiple zones, extensive duct work and in some cases more than one furnace or air conditioning unit, all A-Plus Air customers benefit from this firm's efficiencies. Money and time are saved by being able to fabricate their own custom sheet metal on their shop floor.
Natalie points out, "A-Plus Air brings the same standard of quality service to each and every customer. A customer's home is their castle – and we respect that. Our quality doesn't change based upon an address."
A-Plus Air represents the complete and comprehensive range of Carrier products to deliver its high standard of service excellence to homes and businesses. In addition, all technical staff participates in ongoing training on all major brand names of heating and cooling solutions. "This keeps us on top of all the latest innovations and best practices," says Steve. "Many of our staff have multiple licenses," he added. This encourages longevity among staff and A-Plus Air endeavors to keep its customers for life.
Visit us online today at: www.aplusair.ca or call Natalie Brogan for a professional and personal home consultation 905-385-6450
Location:
Unit 110 – 1100 South Service Road
Stoney Creek, Ontario
Contact:
905-385-6450
1-800-285-3779
Hours:
Monday – Friday: 8.00 a.m. – 5.00 p.m.
Saturday: by appointment
24-hour emergency service available